Kanye West's album "Jesus is King" was a pivotal moment in his discography, as it marked a distinct shift in his musical direction and lyrical content. Released in 2019, the album took a deep dive into Kanye's newfound faith and embraced a strong gospel influence.
The Spiritual Awakening
"Jesus is King" served as a testament to Kanye West's spiritual journey and his embrace of Christianity. The album represented a significant departure from his earlier works, as he traded his once-experimental sound for a more gospel-centric approach. Through introspective lyrics and heartfelt performances, Kanye expressed his personal transformation and the profound impact his faith had on his life.
Gospel Inspirations
Gospel music has long been recognized for its uplifting melodies, powerful vocals, and devotion to Christian themes. In "Jesus is King," Kanye drew inspiration from this rich musical tradition, infusing the album with gospel elements such as soulful choirs, rousing gospel harmonies, and impassioned vocal deliveries. The album's sound was a celebration of gospel's emotional depth and its ability to evoke a sense of spiritual connection.
Collaborative Efforts
To capture the essence of gospel music, Kanye West collaborated with a diverse range of talented musicians and singers who brought their own unique gospel influences to the project. Artists like Sunday Service Choir, Ty Dolla $ign, and Ant Clemons contributed their exceptional vocal abilities, adding depth and authenticity to the gospel-inspired tracks.
The Power of Lyrics
While gospel music often centers around religious themes and praise, Kanye West skillfully intertwined his personal experiences, struggles, and journey of faith into the album's lyrics. Tracks like "God Is," "Follow God," and "Use This Gospel" exemplified this integration, blending gospel messages with Kanye's own introspection and reflections on his spiritual path.
Cultural and Artistic Impact
"Jesus is King" not only made waves within the music industry but also sparked conversations about the intersection of faith, art, and popular culture. Kanye's bold embrace of gospel music invited a new audience to explore the genre and encouraged dialogue on the influence of spirituality in contemporary music.
"Jesus is King" stands as a testament to Kanye West's artistic evolution and personal transformation. Through its gospel influences, the album became a platform for Kanye to share his faith, reflect on his journey, and inspire listeners to seek a deeper spiritual connection. By embracing gospel music's rich traditions and blending them with his own artistic style, Kanye crafted an album that both celebrated and reimagined the genre. "Jesus is King" serves as a reminder of the power of music to transcend boundaries, unite communities, and explore the depths of faith and spirituality.
The Jesus is King Shop is the place to go for everything connected to Kanye West's ground-breaking album "Jesus is King." Explore our carefully curated selection of products that are influenced by the profound concepts and striking creative vision of this famous album to fully immerse yourself in its world.
In addition to Jesus is King, a number of musicians and bands have achieved notable success. Let's examine some of them in more detail:
1. Suicideboys
Known for their dark and atmospheric style, Suicideboys is a rap duo from New Orleans, Louisiana. Their unique blend of trap beats and introspective lyrics has garnered them a dedicated following. Your go-to spot for everything Suicideboys is the Suicideboys Store. Join us in appreciating the music and artistic achievements of this important pair by perusing our extensive selection of items.
2. Rod Wave
Hailing from St. Petersburg, Florida, Rod Wave has made a name for himself in the realm of melodic rap. His emotionally charged songs and powerful storytelling have resonated with listeners worldwide. The Rod Wave Merchandise Store, your premier destination for all things Rod Wave. Step into the world of this talented rapper and songwriter with our exclusive collection of merchandise. From stylish apparel and accessories to collectible items, we have carefully curated a range of products that capture the essence of Rod Wave's music and unique style.
3. Ice Nine Kills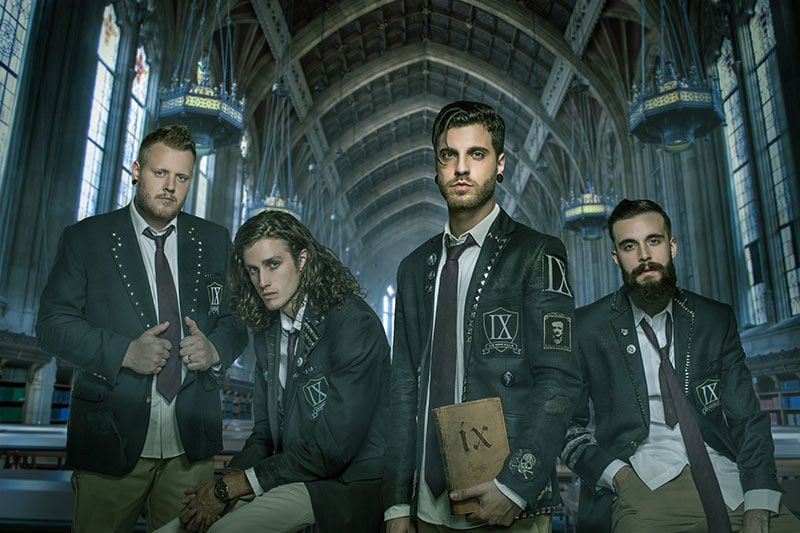 This American metalcore band has gained popularity with their horror-inspired lyrics and theatrical performances. Drawing inspiration from literature and movies, their music often tells chilling tales. The Ice Nine Kills Merchandise Store is your go-to destination for all things related to the horror-inspired metalcore band, Ice Nine Kills. Dive into the macabre world of this electrifying group with our extensive collection of merchandise.
4. Knocked Loose
A hardcore punk band from Kentucky, Knocked Loose is known for their intense and aggressive sound. Their raw energy and passionate performances have earned them a devoted fanbase. Your one-stop shop for everything Knocked Loose is the Knocked Loose Merchandise Store. Prepare to unleash your inner chaos with our extensive collection of merchandise inspired by the hardcore punk band.
5. Brockhampton
This self-proclaimed boy band, formed in San Marcos, Texas, has redefined the boundaries of hip-hop. With a diverse group of members, they deliver a wide range of styles and thought-provoking lyrics. The Brockhampton Merchandise Store is the perfect place to find everything related to Brockhampton. Immerse yourself in the imaginative world of this revolutionary music collective through our extensive range of merchandise. Explore our diverse selection of products and become fully immersed in the creative universe that Brockhampton has crafted.
6. Car Seat Headrest
Led by singer-songwriter Will Toledo, Car Seat Headrest is an indie rock band that has gained critical acclaim. Their introspective and cleverly crafted songs have resonated with fans of alternative music. The Car Seat Headrest Merchandise Store is your one-stop shop for all things Car Seat Headrest. Dive into the world of this indie rock sensation with our wide array of merchandise.
These artists and bands represent a variety of genres and have managed to make a significant impact on the music industry, each in their own unique way.